3 Types of Content Marketing that Musicians Can Use
Posters and print media are attractive and effective marketing methods. But, in the internet age, musicians need to use various types of content marketing to grow their fanbase.
One of the challenges independent musicians face is getting their name and music out there. Whilst many artists have some form of social media presence, numerous additional types of content marketing can help them attract their perfect audience.

If you're a fledgling artist, or someone looking to boost their audience, then learning about content marketing will change the game for you. It doesn't matter if you're a musician or a window cleaner, the current digital age means everyone is – or can be – a marketer. In this blog, we'll look at what content marketing is, the various types of content marketing, and the different ways it can be carried out online for free.
What is content marketing?
You're familiar with TikTok and YouTube, right? Well, everything you view on there is content. This blog that you're reading right now is content. The world is obsessed and driven by content these days.

There are plenty of cases of YouTubers getting millions of subscribers and affording lavish houses and lifestyles off the back of it. Although it looks like a very cushy deal, it doesn't happen by accident. They're all engaged in thoughtful and consistent content marketing. Each video idea is based on marketing principles, the way the title and description are written has to do with marketing. Even the time and date a video is posted come down to marketing.

Traditional marketing usually aims to push products and services to audiences, encouraging them to buy into an item or idea. Content marketing focuses on delivering educational, entertaining and valuable content to people.

Once clever content marketing has reeled people in by offering them actually valuable content, then musicians can think about using tactics to sell albums, merch, tickets, and other tangible products. Because an artist put effort into building trust and authority through content marketing, people will be much more likely to purchase from them.
Different types of content marketing
We've already briefly touched on this, but the various types of content marketing all centre around providing real value to audience members. The top examples of this sort of marketing are educational content, entertaining content, and inspirational content.
Educational content
Fairly self-explanatory, this type of content aims to educate people and help them to develop new skills.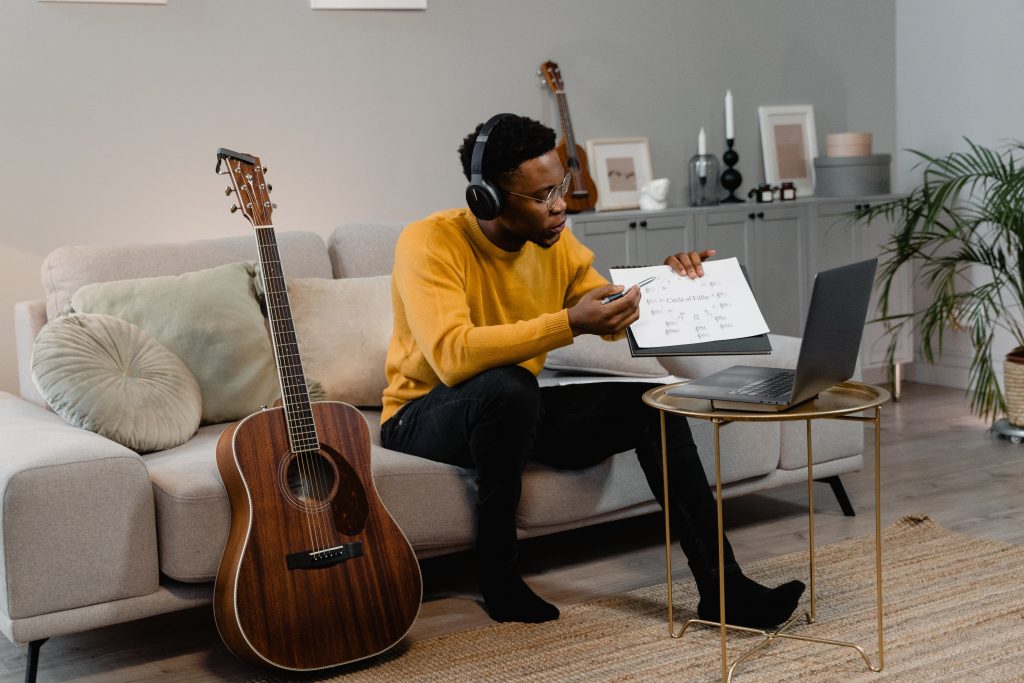 As a musician, you would create educational content in order to connect with other artists. Building a strong network of fellow musicians can be instrumental in growing your fanbase. Collaborative projects and being shouted out by artists can draw in an entirely new audience.

Educational content could range from YouTube videos explaining the music production process, or it could be short-form video snippets breaking down how you approach songwriting. Whatever you enjoy doing and feel confident sharing information about, create content around that.

It's important to only share educational content that you feel you truly possess a lot of knowledge about. Otherwise, you risk sharing misinformation and damaging your reputation.

Share consistent educational content, and you could create an additional revenue stream to supplement your income as a musician. This could come from ad revenue from your YouTube channel, or by selling educational materials online, like workbooks or exclusive video content.
Entertaining content
This is one of those types of content marketing that can be quite challenging to get right. Any online content that is clearly trying too hard to be funny or entertaining is an instant turn-off.

However, if you have some good ideas and have noticed what people respond well to online, you could build your audience by creating entertaining content. You could share amusing song covers via Instagram Reels, or become a musical meme lord on Twitter.
The general rule of thumb here is the sillier, the better. Entertaining content is a great type of content to fall back on as it can be made very quickly. You should absolutely still create a content calendar and post regularly, but you can whip up a funny video in thirty seconds if you know what you're doing.
Inspirational content
Inspirational and aspirational content keeps people coming back. If you can connect with your audience on a deeper level, you'll experience increased loyalty and likely notice a stronger sense of community.

Sharing stories of your own musical journey and any hurdles you've overcome is a perfect place to start. You can also draw on other people's experiences, or share stories that have inspired you in the past. These types of videos are great vehicles for promoting your music too. Featuring your original songs as backing tracks make the content even more personal to you, whilst showing off your skills.
Free content marketing methods
You may have noticed that, so far, every platform we've mentioned has been a free social media platform. You don't need a dedicated marketing budget to carry out effective and appealing content marketing.

It really is as simple as setting up an account on Instagram, TikTok, or YouTube. Anyone can do it, and many content creators just use the camera on their phone to make videos.

If you're not so keen on the idea of being in front of the camera, there are other methods you can use. The popularity of podcasts is still growing. An audio-only format, a podcast is perfect for the camera-shy musician who loves a good chat. You can collaborate with other artists by inviting them on as guests, where you can educate, entertain and inspire all in one.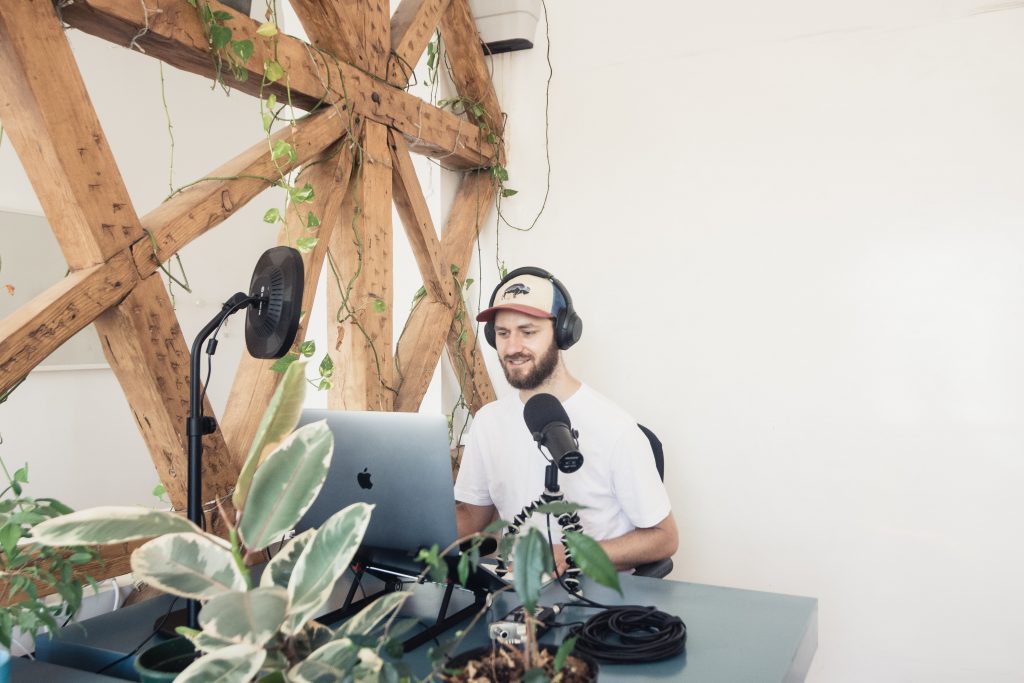 Plenty of musicians are actually pretty introverted. Preferring the written word to the spoken, podcasts and videos could be an intimidating prospect. Blogging is a great alternative, we can tell you. Well-written and carefully crafted blog content can go down a storm and enables you to provide value to audiences whilst also directing them to your merch or music. Featuring a regularly maintained blog on your artist's website is a sure-fire way to build trust and authority, and will certainly help to build your audience.
How to nail these types of content marketing
Now you know what content marketing is and the various types of content marketing, you may be wondering how exactly you can do a good job at it. The important thing is to tailor it yourself, as this will help you to keep consistent with it.

Otherwise, here are some handy pointers to help you advance your content marketing game:
Do some research – Have a look at the content other musicians create. Notice how often they share content, and look at whether it gets much engagement from fans. Recognising patterns in successful content will help inform you when creating your own.
Be authentic – Whilst it's helpful to look at others' content, you shouldn't try to replicate it completely. Be yourself and be true to your brand, otherwise, people will sense you're not being authentic. It's also much harder to pretend to be someone else for a long period of time. Embrace your uniqueness.
Set realistic goals – Aiming high is great, but unrealistic goals can be demotivating. Instead of vowing to post a video online every day, start with sharing one each week. As you gain skills, you'll get quicker at firing out quality content.
Keep an eye on the stats – Once you post content, you shouldn't forget about it forever. Look back over the stats and insights for a video, podcast, or blog post and see how well it performed. This will help you understand your audience better, and know what kind of content they enjoy seeing from you.
In conclusion
Brilliant content marketing is all about adding value. By educating, entertaining and inspiring people, you can grow your audience and even earn additional income.

These types of content marketing are broad, leaving lots of room for creativity and originality. Not only can you connect with people, making it easier to sell your music or merch to them, but you can show off your personality and build a solid community.

For independent artists, a strong community is imperative for building success. Since the majority of content marketing methods are free to do, you don't need to sink precious money into growing your online presence. A bigger audience means your music is reaching more ears, and your music streaming income will be boosted.

Consistent content marketing takes effort and dedication. Being an independent musician means spinning lots of plates, but content marketing is a plate that is worth its weight in gold.
---
Sign up to Fractis today, and sell shares of your music streaming royalties to the fans you connect with through your newfound content marketing knowledge!